Mandela Day Sale - 18 July 2018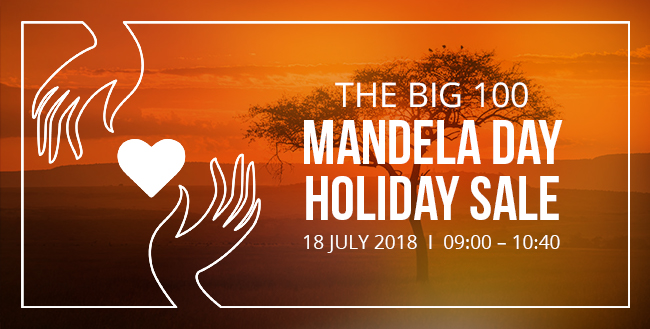 MANDELA DAY SPECIAL
100 MINUTES: 09H00 - 10H40 ON 18 JULY 2018
To celebrate the fact that Mandela would have been 100 years old,
we are having two specials on our annual contribution to
Mandela Day on 18 July 2018!

BIG 100 SPECIAL

(Online & Call Centre bookings)


Accommodation bookings for this special only include
Baywater Village, Crystal Springs, Uvongo River Resort,
Ekuthuleni Hoedspruit and Manzi Monate.
FOR ONLINE BOOKINGS USE THE FOLLOWING CODES:

EXCLUSIVE SPECIAL
(Call centre bookings only)

Exclusive accommodation bookings to be ma
de
through
our
call centre only on 012 996
5120
EXCLUSIVE ACCOMMODATION BOOKING RATES:
For more info contact one of our friendly consultants
for assistance on your holiday accommodation booking.

In honour of Mandela day, We'll donate R 100.00
of each Reservation to our preferred charity

Sale will only run for 100 minutes on 18 July 2018: 09h00 – 10h40. Only Credit Card payments will be accepted on the day. Offer excludes Private Owner weeks, Peak & Public Holiday periods. Offer only valid for occupation in 2018. All resorts not specified are excluded from this special. TradeUnipoint reserves the right to cancel a reservation and provide
an
alternative reservation or a refund, should the
Terms and Conditions not be abided by. No Cancellations will be allowed. No
amendment to the reservation will be accepted. No Guest Certificates. No on
renting of accommodation. No other discount vouchers to be used. Copy these
voucher codes for online bookings
(only applicable to Big 100 Special): Full Week: DYD3PHUCW7; Weekend:
R7GG8GS6R7; Midweek: WECKYNZ5XZ. Standard TradeUnipoint
terms and conditions apply.
Mon 16 Jul 18