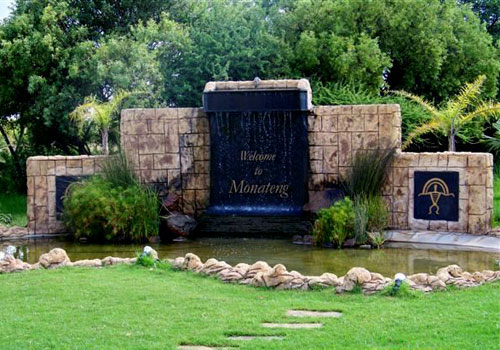 On-Site
Bar (Times: Mon: 08h00-19h00 Tue-Thu: 08h00-17h00 Fri-Sat: 08h00-19h00 Sun: 08h00-15h00)
Convenience shop (Essentials Only. Convenience Store Times: Mon: 08h00-19h00 Tue-Thu: 08h00-17h00 Fri-Sat: 08h00-19h00 Sun: 08h00-15h00)
Take away shop (Le Fera Take Away Outlet and Bar Times: Mon: 08h00-19h00 Tue-Thu: 08h00-17h00 Fri-Sat: 08h00-19h00 Sun: 08h00-15h00)
Game drives (Game drives and Crocodile tour bookings can be made at the Bar. No private vehicles are allowed on the game farm)
Bird watching
Swimming pool (Cold Water. No alcohol or loud noise permitted. No life guards.)
Games room (Deposit to be paid for game hire. Coin operated arcade games.)
Reception (The Reception times are: Mondays 07h30-18h30, Tuesdays-Thursdays 07h30-16h30, Fridays 07h30-19h30, Saturdays 07h30-12h30, Sundays – Closed)
Conference facilities
Entertainment Program (Provided to guests on Check ins)
Jungle gym (Use at own risk)
Golf course (Crazy Golf Course. Deposit to be paid for equipment.)
Tennis (Deposit to be paid for equipment)
Volleyball (Use at own risk)
Trampoline (Use at own risk)
Chess (Giant Chess)
Laundry (Caravan Park)
Cellular reception (Limited Reception)
Playground (Use at own risk)
Putt - Putt (Deposit to be paid for equipment)
Pool Table (Coin operated)
Table tennis (Deposit to be paid for equipment.)
Key breakage (A refundable key / breakage deposit of R1500-00 payable on arrival only cash or credit card will be acceptable.)
Off-Site
Casino (Carousel Casino 65km)
Gym (25km)
Medical facilities (25km)
Squash (25km)
Fishing (15km)
Nearest town (25km)
Supermarket (14km)
Shopping centre (25km)
Golf course (10km)
ATM (14km)
Roodeplaat Dam (12km)
Airport (Johannesburg International Airport 75km)
Live entertainment (25km)
Cinema (25km)
Alerts

VRS Managed Resorts: Please note that no check-ins will be permitted after 21:00. Should you arrive after 21:00, access to the resort will not be granted. IMPORTANT COVID 19 NOTICE: The Resort will have to operate per the Covid 19 Protocols set by government, there will be limited services and/or facilities. For more information kindly contact the resort directly to confirm. Please note the below Terms and Conditions: *Drop-off and / or chauffeur services are only allowed to drop guests off at the gate / reception, and therefore not permitted past the gate for security reasons. Should you not have your own vehicle, the drop-off and / or chauffeur service will only be able to drop you off at the gate and you will be required to walk to the chalet. This is about 2 kilometers. *No late Check-in's after 18:00 on day of check-in will be permitted. You are welcome to contact the resort for special arrangements, please note that these arrangements will be granted at the Resort's discretion. *Additional people checking in at a later stage other than first arrival, will not be allowed, unless prior arrangements have been made with the resort. We suggest that all people checking in, do so at the same time. Please note that these arrangements will be granted at the Resort's discretion. *Should you not abide by the above Terms and Conditions / Resort Terms and Conditions / Resort Rules and Regulations / Indemnity Form, which results in the resort denying occupation, neither Gomelo, the Resort, nor the Managing Agent will be held liable for a refund / compensation. A refundable key / breakage deposit is payable upon arrival at the resort. The deposit amount is R 1500.00 for Rental Clients, and R 350.00 for affiliated Club Members. Please note that should this fee not be paid, occupancy will not be granted. Please note that the Key and Breakage Fee is payable upon arrival to the Resort directly. This fee is not payable to Gomelo, as it is a Resort function. Please bring extra insect repellent. Please be advised that the Resort is currently experiencing increased seasonal insect activity on the property. Please rest assured that the Resort is diligently applying rigorous control measures to manage the situation as effectively as possible. No over occupancy will be allowed, this includes all ages. Strictly No Pets are allowed (Birds included). ONLY cash and credit cards will be accepted at the Resort, NO CHEQUES accepted. Please remember to bring swimming towels, should you wish to make use of these amenities. The Resort does not supply swimming pool towels. PLEASE NOTE: Monateng Safari Lodge does not allow Day Visitors at this time.
GPS

[ S 25 33' 17", E 28 23' 20" ]
[ -25.55487900, 28.38896900 ]

Region

Gauteng

City

Kameeldrift
Check In Day

Friday

Check In

16:00

Check Out

10:00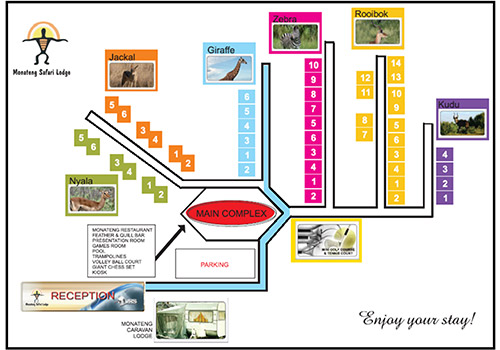 Breakfast
Breakfast

---
Monateng Safari Lodge Braai Package
Wood, Charcoal, Fire Lighters. Matches

---
Dinner at Le Fera Restaurant
Dinner

---
Monateng Safari Lodge Breakfast Package
1Lt Milk, Half dozen eggs, Bread

---
Bag of Wood
Bag of Wood

---
---
No availability for current resort
---
Popular with people who booked here
---

Crystal Springs (Mpumalanga - Pilgrims Rest)
Crystal Springs Mountain Lodge is a four star self-catering resort situated near Pilgrim's Rest. Natural scene...

Ngwenya Lodge (Mpumalanga - Komatipoort)
The Lodge offers the perfect getaway for those seeking a truly African experience.

Mount Amanzi (North West - Brits District)
Deep in the heart of the Magaliesberg Mountains, nestled along the banks of the Crocodile River, lays one of t...

Mabalingwe Nature Reserve (Limpopo - Thabazimbi Road)
Mabalingwe Nature Reserve is situated in the shadow of the majestic Waterberg district with spectacular scener...

Uvongo River Resort (South Coast - South Coast, Kwazulu-Natal)
Set in a quiet suburb, this exclusive resort boasts distinctive Italian-inspired apartment blocks in tranquil ...