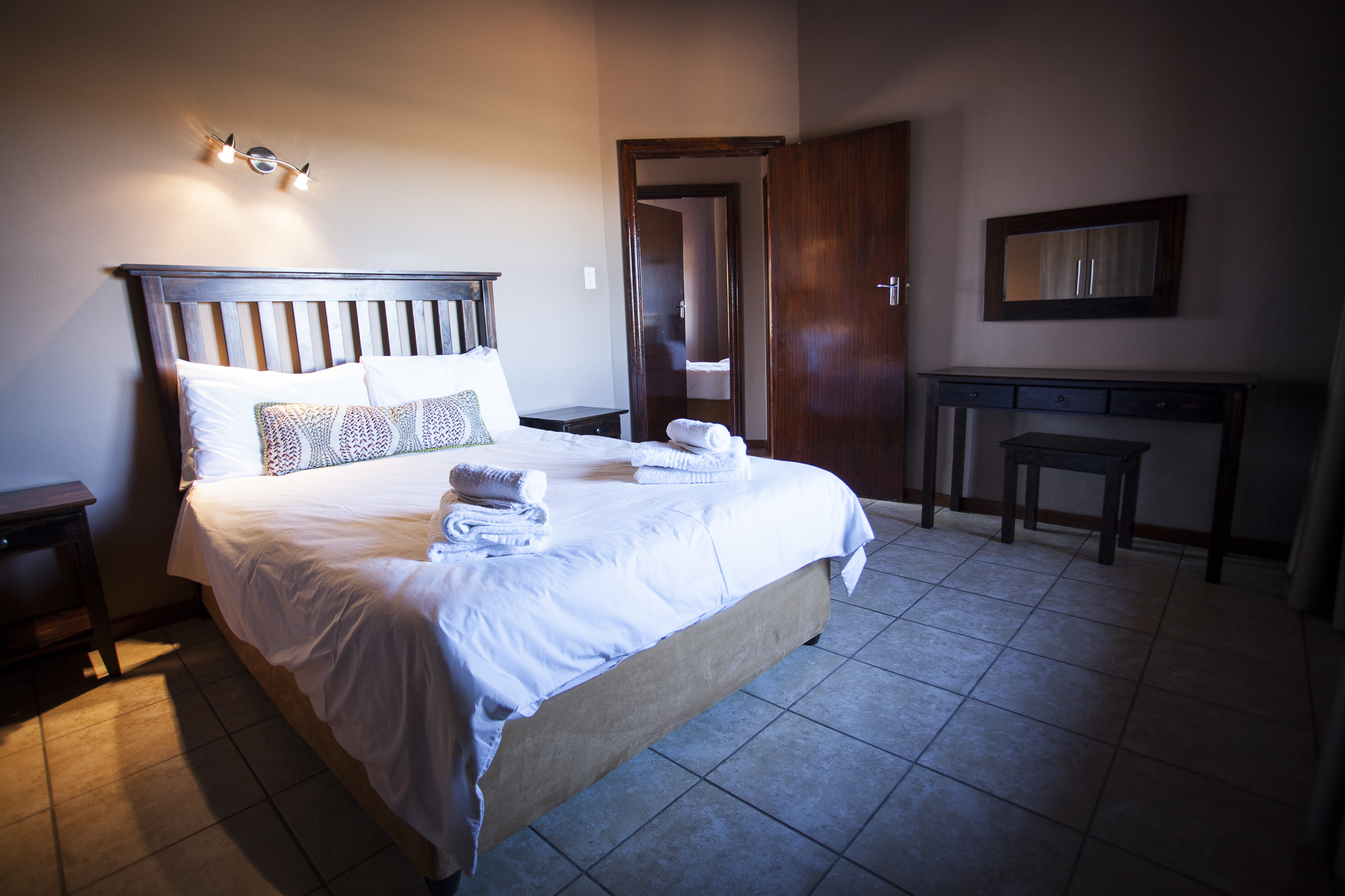 On-Site
Bird watching (Bring Own equipment)
Conference facilities (Up to 25 delegates - Please contact Reception for more information)
Hiking trails (At Own Risk)
Cellular reception (Limited to no cellular reception)
Public parking
Quadbike Tours (Book and pay in advance at Reception)
Restaurant (Breakfast 8-10 AM / Lunch 12-4 PM / Dinner 7 PM)
Swimming pool (2 x Cold water (no Heated Pools))
Telephone (VOIP Phone At Reception/Bar)
4 X 4 Route
Airstrip for light aircraft (Contact Reception for more information (terms and conditions))
Mountain bike trails (Bring Own Bikes)
Nature Reserve
Day Spa (08:00 - 13:00 and 14:00 - 17:00)
Bar
Convenience shop (Basic Products)
Wi Fi (Internet available at Bar and Reception area)
Boma
Gift and Curio Shop
Laundry (Additional Cost)
Resort Lounge (Include Bar)
Observatory (With 10-inch telescope)
Key breakage (A refundable key / breakage deposit of R1500-00 payable on arrival only cash or credit card will be acceptable.)
Off-Site
Airport (Cape Town International 250Km- 245km via R44 and 239km via N1)
ATM (In Ceres - 122km via R46 and R355)
Golf course (In Ceres - 122km via R46 and R355)
Medical facilities (In Ceres - 122km via R46 and R355)
Shopping Mall (In Ceres - 122km via R46 and R355)
Supermarket (In Ceres - 122km via R46 and R355)
Nearest town (In Ceres - 122km via R46 and R355)
Ceres Zip Slide Tour (188km via R46 and R355)
4 X 4 Route (Many 4x4 Routes In The Area)
Alerts

VRS Managed Resorts: Please note that no check-ins will be permitted after 21:00. Should you arrive after 21:00, access to the resort will not be granted. IMPORTANT COVID 19 NOTICE: The Resort will have to operate per the Covid 19 Protocols set by government, there will be limited services and/or facilities. For more information kindly contact the resort directly to confirm. From the resort: Due to COVID regulations, the Chalet will only have the minimum in (no scatter cushions, throws on beds etc). The unit will be sanitized before each arrival, we do not service the unit during each guest's stay but should they like to be serviced they can just request so with Reception upon check in and our housekeepers will service their unit as requested (Mondays to Saturdays only). Linen changes will be done once a week (full week reservations only and for new arrivals). Should they require more towels they are welcome to request more at Reception. Bookings for the Restaurant need to be made in advance. CHARGES: Breakage deposit, Activities: Stargazing Tour, Quad Bike Safari. Excursions: Sundowner Trip, Rock Art Tour, Morning and Evening Nature Drives. A refundable key / breakage deposit is payable upon arrival at the resort. The deposit amount is R 1500.00 for Rental Clients, and R 350.00 for affiliated Club Members. Please note that should this fee not be paid, occupancy will not be granted. Please note that the Key and Breakage Fee is payable upon arrival to the Resort directly. This fee is not payable to Gomelo, as it is a Resort function. Limited to no cellular reception. WiFi only at bar and reception area. Chalets do not have aircons.
GPS

[ S 32 44' 33", E 19 33' 27" ]
[ -32.74250000, 19.55766700 ]

Region

Western Cape

City

Ceres
Check In Day

Friday

Check In

16:00

Check Out

10:00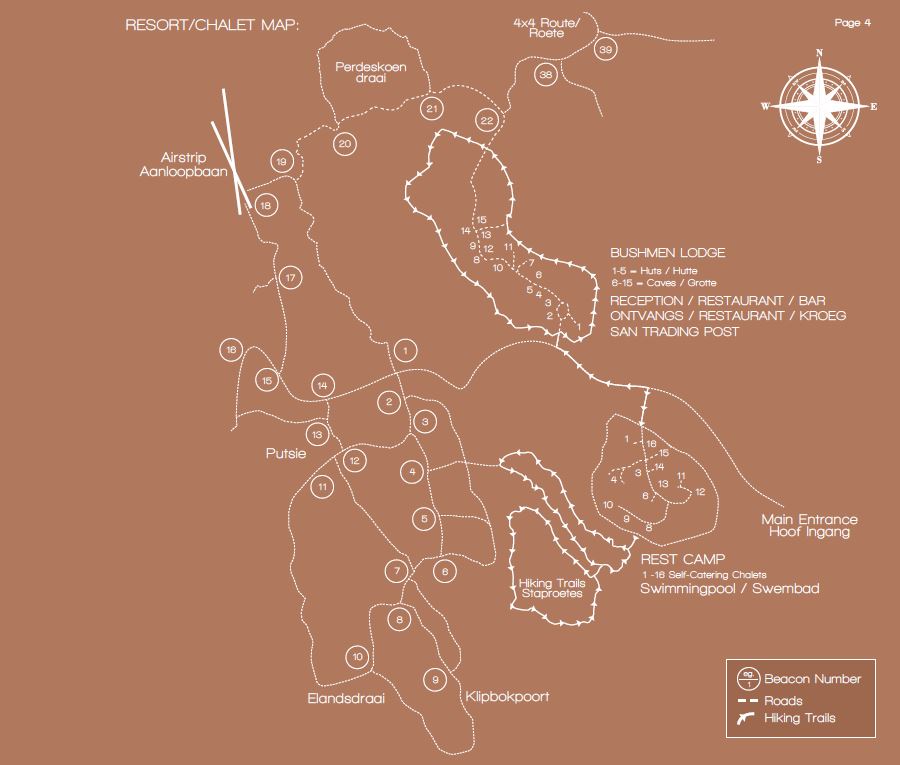 ---
No availability for current resort
---
Popular with people who booked here
---

Crystal Springs (Mpumalanga - Pilgrims Rest)
Crystal Springs Mountain Lodge is a four star self-catering resort situated near Pilgrim's Rest. Natural scene...

Ngwenya Lodge (Mpumalanga - Komatipoort)
The Lodge offers the perfect getaway for those seeking a truly African experience.

Mount Amanzi (North West - Brits District)
Deep in the heart of the Magaliesberg Mountains, nestled along the banks of the Crocodile River, lays one of t...

Uvongo River Resort (South Coast - South Coast, Kwazulu-Natal)
Set in a quiet suburb, this exclusive resort boasts distinctive Italian-inspired apartment blocks in tranquil ...

Mabalingwe Nature Reserve (Limpopo - Thabazimbi Road)
Mabalingwe Nature Reserve is situated in the shadow of the majestic Waterberg district with spectacular scener...