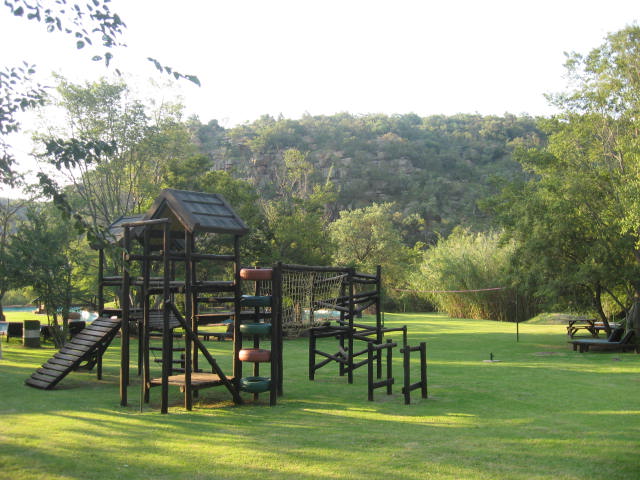 On-Site
Bird Watching (Bird List)
Communal Braai
Games Room (Only open certain times)
Hiking Trails (Not Guided)
Jacuzzi
Key breakage (A refundable key / breakage deposit of R1500-00 payable on arrival only cash or credit card will be acceptable.)
Kids Play Area
Outdoor Chess
Pool Tables
Public Parking
Swimming Pool (Children and Adult)
Trampoline
Convenience Shop
Laundry (Enquire at reception)
Air Hockey
Waterfall (Not Guided)
Mini Kiosk
Childrens Playground
Table Tennis
Volley Ball
Chess
Bicycles for Hire
Off-Site
Airport (OR Tambo International 89.1 km)
ATM (13km)
Gym (13 km's)
Horse Riding (20km's)
Medical Facilities (13km's)
Restaurant (13km's)
Supermarket (13km's)
Water Skiing (50km)
Water Sports (50km)
Museums (30km)
Casino (93.9 km via N1 and N14 1 h 15 min without traffic)
Nearest town (Cullinan - 14.7 km via Colin Rd 17 min without traffic)
Golf course (Cullinan - 14.7 km via Colin Rd 17 min without traffic)
Game farm (Nearest is 50km)
Alerts

IMPORTANT COVID 19 NOTICE: The Resort will have to operate per the Covid 19 Protocols set by government; there will be limited services and/or facilities. For more information kindly contact the resort directly to confirm. No day visitors allowed. Please adhere to all gate times 5am-9pm. The resort is very strict on mask wearing and social distancing. No alcohol consumption is allowed in the public areas at the resort. Currently the swimming pool is open with restrictions, kindly contact the resort directly for more information and please note that this can change at any time. A refundable key / breakage deposit is payable upon arrival at the resort. The deposit amount is R 1500.00 for Rental Clients and R 350.00 for affiliated Club Members. Please note that should this fee not be paid, occupancy will not be granted. Please note that the Key and Breakage Fee is payable upon arrival to the Resort directly. This fee is not payable to Gomelo, as it is a Resort function. GPS CO-ORDINATES IS: S25? 34. 904. E28? 34. 716
GPS

[ S 25 34' 57", E 28 34' 44" ]
[ -25.58261140, 28.57905010 ]

Region

Gauteng

City

Cullinan District
Check In Day

Friday

Check In

14:00

Check Out

10:00
| | Date | Unit | Size | Price | |
| --- | --- | --- | --- | --- | --- |
| | 22/03/2021 - 26/03/2021 | 09 | 4 Adults 2 Kids | R3,508.87 | |
| | 29/03/2021 - 02/04/2021 | 20 | 6 Adults 2 Kids | R4,500.00 | |
| | 29/03/2021 - 02/04/2021 | 12 | 2 Adults 4 Kids | R2,749.95 | |
| | 16/04/2021 - 19/04/2021 | 03 | 2 Adults 4 Kids | R6,416.55 | |
| | 19/04/2021 - 23/04/2021 | 14 | 2 Adults 4 Kids | R3,000.00 | |
| | 03/05/2021 - 07/05/2021 | 20 | 6 Adults 2 Kids | R3,000.00 | |
| | 03/05/2021 - 07/05/2021 | 18 | 6 Adults 2 Kids | R3,000.00 | |
| | 14/05/2021 - 17/05/2021 | 12 | 2 Adults 4 Kids | R3,925.39 | |
| | 17/05/2021 - 21/05/2021 | 12 | 2 Adults 4 Kids | R2,102.89 | |
| | 28/05/2021 - 31/05/2021 | 19 | 6 Adults 2 Kids | R6,869.19 | |
Popular with people who booked here
---

Crystal Springs (Mpumalanga - Pilgrims Rest)
Crystal Springs Mountain Lodge is a four star self-catering resort situated near Pilgrim's Rest. Natural scene...

Ngwenya Lodge (Mpumalanga - Komatipoort)
The Lodge offers the perfect getaway for those seeking a truly African experience.

Mount Amanzi (North West - Brits District)
Deep in the heart of the Magaliesberg Mountains, nestled along the banks of the Crocodile River, lays one of t...

Mabalingwe Nature Reserve (Limpopo - Thabazimbi Road)
Mabalingwe Nature Reserve is situated in the shadow of the majestic Waterberg district with spectacular scener...

Monateng Safari Lodge (Gauteng - Kameeldrift)
Monateng Safari Lodge is situated in a serene and tranquil environment on an exquisite bushveld property, conv...