Lagoon Beach Apartments
[ ]
On-Site
Cellular reception
Fishing
Handicap facilities
Key breakage (R 1500.00 Refundable (7-14 Days))
Public parking (Yes but no undercover parking)
Restaurant
Spa / Jacuzzi
Water sports
Off-Site
Casino (5km)
Golf course (Nearby)
Medical facilities (3km)
Minigolf (3km)
Nearest town (5km)
Supermarket (3km)
Tennis (8km)
Beach
Water sports
Alerts

IMPORTANT COVID 19 NOTICE: The Resort will have to operate as per the COVID 19 protocols set by government, there will be limited services and/or facilities. For more information kindly contact the resort directly to confirm. Please note that each apartment is privately owned. Renovations may occur without prior notice to the Booking agent / Client. KEY COLLECTIONS: Please arrive at the Lagoon Beach Apartments lobby. Once you arrive, you will need to make your way straight to your allocated apartment and find the key safe attached to the door. The code to unlock this safe will be provided to you prior to arrival, and will allow you to unlock your access key for the room. A R1 500 refundable key and breakage deposit will be charged. Please use water sparingly a fine will be issued between R5,000 and R10,000 if water is wasted. Lagoon Beach apartments are adjacent to Lagoon Beach Hotel. There is 24hr security Extra facilities include a business center with internet cafe,health and wellness spa, restaurants, conference facilities. Nearby attractions: Robben Island, V and A Waterfront, Wine Routes, Art Galleries, Museums, Opera House, Ballet Theatre, dazzling beaches, Grand West Casino, Canal Walk and a number of Exclusive Golf courses. Daily Cleaning service is available except on Sundays, with linen change on Tuesdays for a full week booking. Activities on the beachfront include kite-surfing, wind-surfing, sailing, beach volleyball, beach walking, fishing, swimming, kayaking/canoeing. Dining Options: La Mizu - If you're looking for something light and tasty while enjoying another glorious sunset, this is the place to be. Wang Thai - Explore the exquisite flavors and spices of authentic Thai cuisine, where they prepare to spoil you with their masterful creations using only the freshest ingredients imported directly from Thailand. PLEASE NOTE: The Gym at Lagoon Beach Hotel is only accessible by Hotel guests, therefore those booked into Lagoon Beach Apartments will not be permitted to access the Gym.
GPS

[ S 33 53' 30", E 18 29' 1" ]
[ -33.89177100, 18.48384800 ]

Region

Cape Town

City

Cape Town
Check In Day

Any

Check In

15:30

Check Out

10:00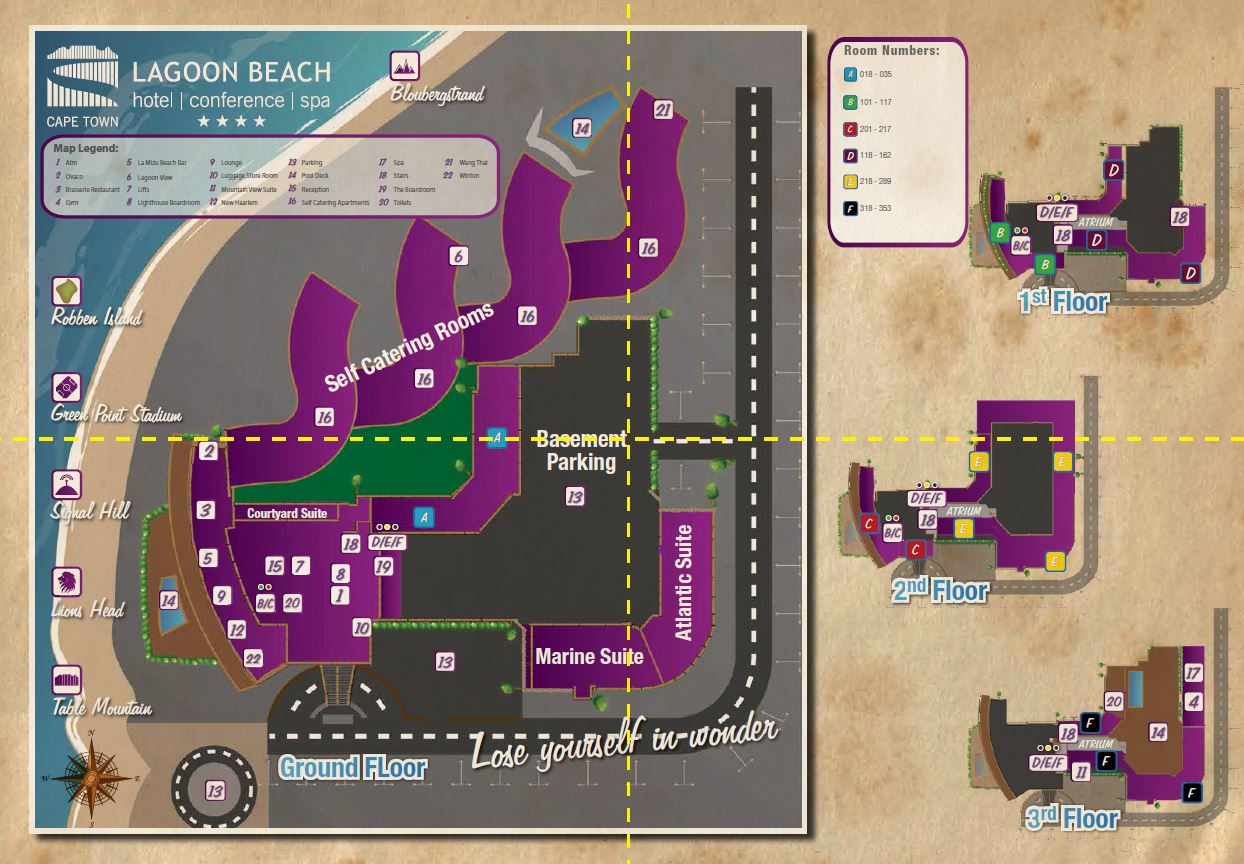 | | Date | Unit | Size | Price | |
| --- | --- | --- | --- | --- | --- |
| | 12/11/2021 - 19/11/2021 | G7 | 4 Adults 2 Kids | R13,333.00 | |
| | 03/12/2021 - 10/12/2021 | G7 | 4 Adults 2 Kids | R12,495.00 | |
| | 28/10/2022 - 04/11/2022 | G7 | 4 Adults 2 Kids | R12,870.00 | |
Popular with people who booked here
---

Crystal Springs (Mpumalanga - Pilgrims Rest)
Crystal Springs Mountain Lodge is a four star self-catering resort situated near Pilgrim's Rest. Natural scene...

Ngwenya Lodge (Mpumalanga - Komatipoort)
The Lodge offers the perfect getaway for those seeking a truly African experience.

Mount Amanzi (North West - Brits District)
Deep in the heart of the Magaliesberg Mountains, nestled along the banks of the Crocodile River, lays one of t...

Uvongo River Resort (South Coast - South Coast, Kwazulu-Natal)
Set in a quiet suburb, this exclusive resort boasts distinctive Italian-inspired apartment blocks in tranquil ...

Mabalingwe Nature Reserve (Limpopo - Thabazimbi Road)
Mabalingwe Nature Reserve is situated in the shadow of the majestic Waterberg district with spectacular scener...