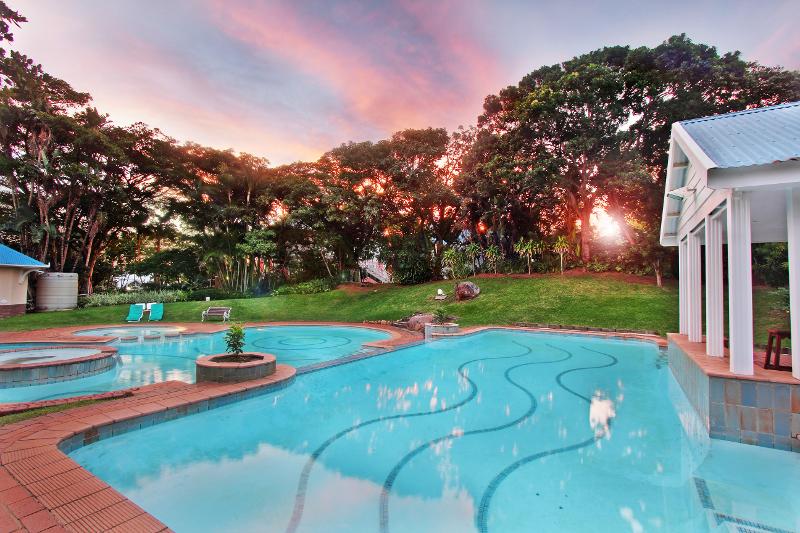 On-Site
Beach
Bird watching
Cellular reception
Fishing
Security
Swimming pools (Children and Adults)
Tennis
Launching facilities (Boats and canoes)
Kiddie's play area (Playground)
Trampoline
Credit Card facilities
Hiking trails
Key breakage (A refundable key / breakage deposit of R1500-00 payable on arrival only cash or credit card will be acceptable .)
Off-Site
Airport (Margate Airport - 30km and King Shaka International Airport -210 Km)
ATM (5km)
Casino (Wild Coast Sun - 3km)
Game farm (3km)
Golf course (13.0 km Port Edward Country Club)
Gym (5km)
Horse riding (3km)
Medical facilities (5km)
Restaurant (6km)
Squash (2km)
Supermarket (5km)
Water World (15.3km- Wild Coast Water World)
Hippo / Crocodile Tours (25km)
Fishing (Deep sea fishing - 5km)
Shopping centre (3km)
Whale and Dolphin Viewing (2km)
Beaver Creek Coffee Farm (5km)
Sardine run (25 June – 25 July)
Petrol station (3km)
Spa (13.0km - Health and Beauty Clinic Day Spa)
Arts and crafts (7km)
Far Horizon Animal Farm (8km)
Red Desert (8km)
Riverbend Crocodile Farm (18km)
Town - Margate (30km)
Town - Port Edward (2km)
Mac Bananas Cafe (8km)
Alerts

Urgent notice: Please note that we are experiencing serious water challenges on the South Coast since the municipal strike. The resort is currently experiencing interruptions to the water supply and have implemented a water schedule to preserve our reservoir. VRS Managed Resorts: Please note that no check-ins will be permitted after 21:00. Should you arrive after 21:00, access to the resort will not be granted. IMPORTANT COVID 19 NOTICE: The Resort will have to operate per the Covid 19 Protocols set by government, there will be limited services and/or facilities. For more information kindly contact the resort directly to confirm. A refundable key / breakage deposit is payable upon arrival at the resort. The deposit amount is R 1500.00 for Rental Clients, and R 350.00 for affiliated Club Members. Please note that should this fee not be paid, occupancy will not be granted. Please note that the Key and Breakage Fee is payable upon arrival to the Resort directly. This fee is not payable to Gomelo, as it is a Resort function.
GPS

[ S 31 4' 28", E 30 12' 1" ]
[ -31.07446600, 30.20028900 ]

Region

South Coast

City

Port Edward
Check In Day

Friday

Check In

14:00

Check Out

10:00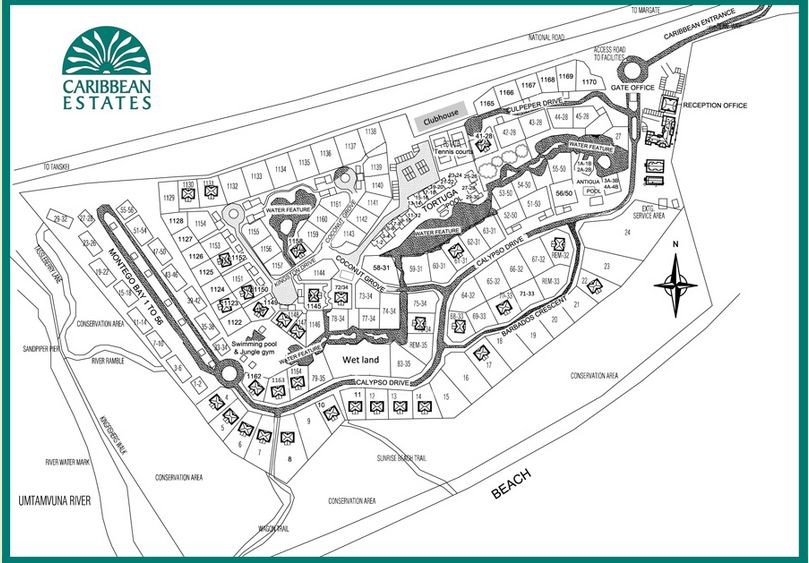 ---
No availability for current resort
---
Popular with people who booked here
---

Crystal Springs (Mpumalanga - Pilgrims Rest)
Crystal Springs Mountain Lodge is a four star self-catering resort situated near Pilgrim's Rest. Natural scene...

Ngwenya Lodge (Mpumalanga - Komatipoort)
The Lodge offers the perfect getaway for those seeking a truly African experience.

Mount Amanzi (North West - Brits District)
Deep in the heart of the Magaliesberg Mountains, nestled along the banks of the Crocodile River, lays one of t...

Uvongo River Resort (South Coast - South Coast, Kwazulu-Natal)
Set in a quiet suburb, this exclusive resort boasts distinctive Italian-inspired apartment blocks in tranquil ...

Mabalingwe Nature Reserve (Limpopo - Thabazimbi Road)
Mabalingwe Nature Reserve is situated in the shadow of the majestic Waterberg district with spectacular scener...